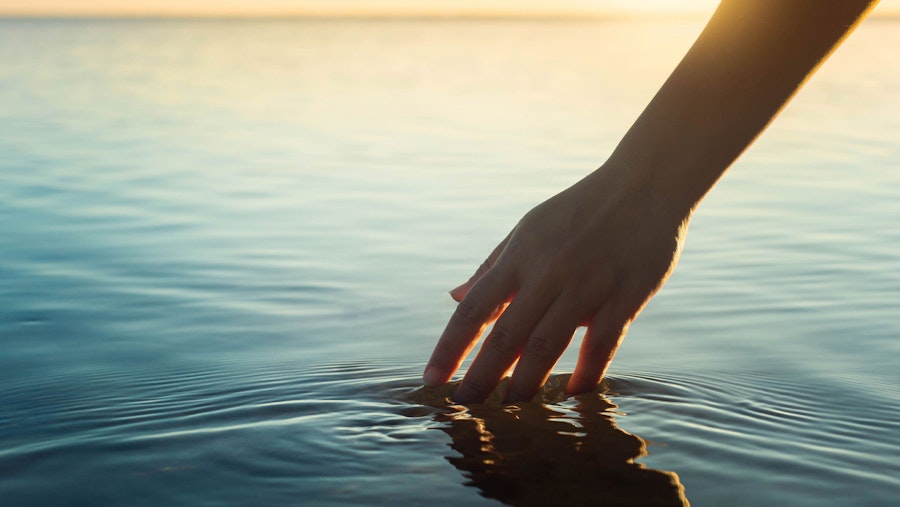 In 2021, FÉRIQUE Fund Management not only reaped the benefits of its previous responsible investment efforts but also turned even more resolutely toward the future with initiatives that will generate tomorrow's benefits.
In 2021, FÉRIQUE Fund Management continued to apply its three-pronged approach: exercise of proxy voting rights, integration of ESG criteria and shareholder engagement.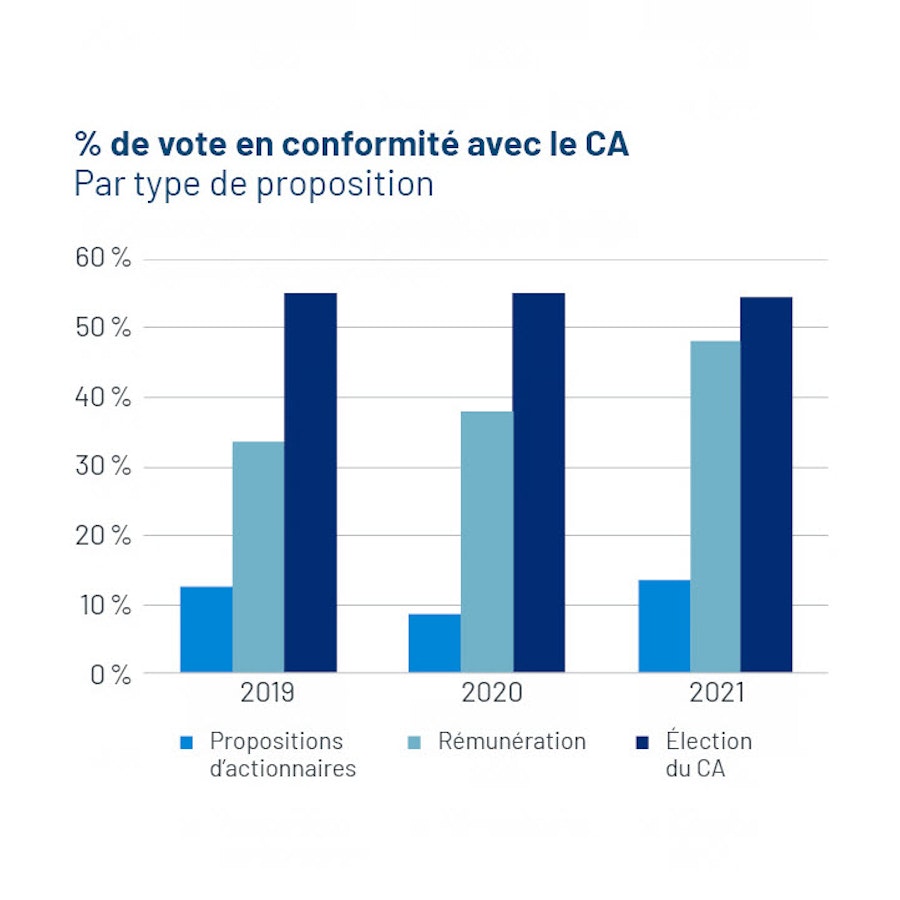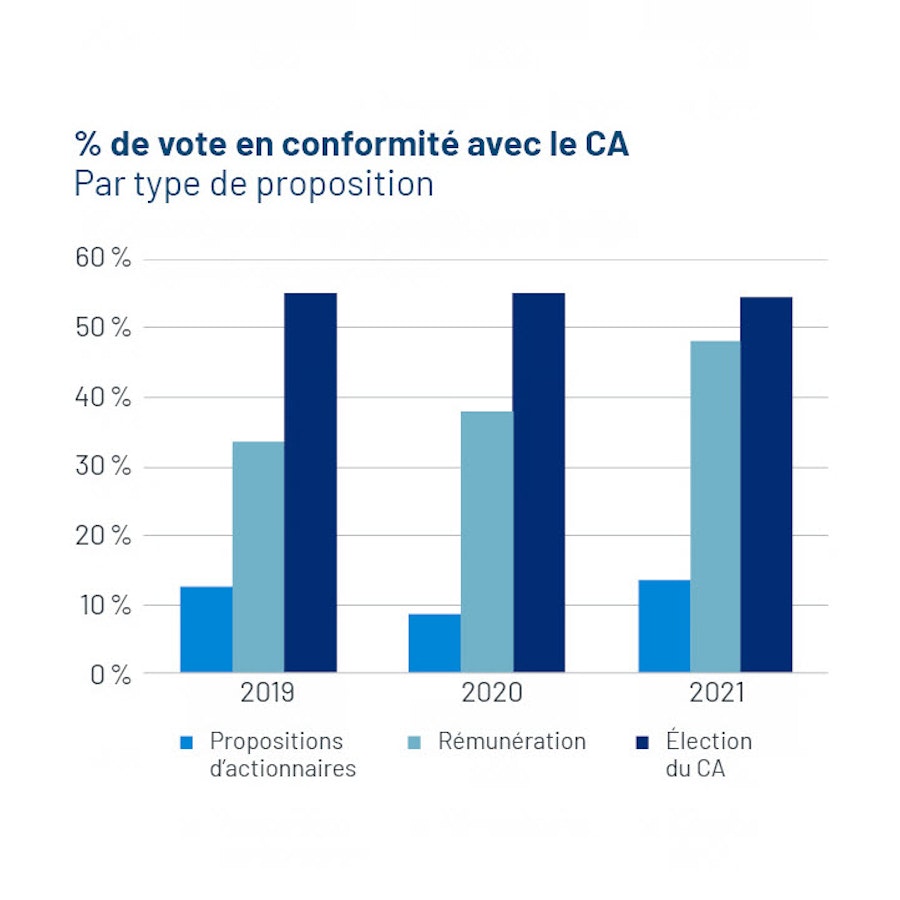 Proxy voting rights enable shareholders to have a positive influence on the companies they invest in. To that end, transparency, accountability and long-term profitability are the three main principles defining our policy.
In 2021, the FÉRIQUE Funds exercised their voting rights on 7,423 proposals submitted to 558 shareholder meetings.
In 55% of the cases, we supported the recommendations made by boards of directors. Our dissenting votes concerned mainly the election of board members and executive compensation not aligned with shareholder interests. For more information, see our Voting Reports and the Proxy Voting Policy.
Integration of environmental, social and governance (ESG) criteria has become an essential complement to the organization's overall approach to investment risk management. It is above all pragmatic: we strive to improve our practices from a collaborative perspective, taking extra-financial factors into account rather than excluding securities from the outset and thereby forgoing our power of influence.
All managers of the FÉRIQUE Funds are signatories to the United Nations Principles for Responsible Investment (PRI) and, as set out formally in our prospectus, undertake to include ESG criteria in their investment approach and decision making.
In this way, FÉRIQUE Fund Management ensures it is well aware of the responsible investment policies and practices of all managers to whom it gives mandates. This year we carried out virtual due diligence visits to effectively verify all the activities of the management firms' key departments, including the teams handling ESG issues.
The last component of our approach is shareholder engagement, namely our efforts to ensure portfolio companies improve their ESG practices. Our long-standing partnership with the shareholder engagement services firm Æquo enabled us to continue our discussions with a number of Canadian and U.S. companies. Our membership in the Climate Action 100+ initiative also positioned us to motivate TC Energy, in 2020, to set a carbon neutrality target for 2050. We also continued to engage in a dialogue on ESG issues with Scotiabank, Barrick Gold, Dollarama , Enbridge, Nutrien, CVS Health, Pfizer and Verizon Communications. 
By collaborating with Æquo and belonging to Climate Action 100+,  we  join forces with other investors to increase our ability to promote corporate best practises.
With the dual objective of protecting the FÉRIQUE Funds from energy transition risks and, at the same time, contributing to the worldwide reduction of greenhouse gas emissions, FÉRIQUE Fund Management undertook, in 2021, to align its funds gradually with the objectives of the Paris Agreement.
We intend to implement initiatives that will allow us to achieve our goal of aligning with the Paris Agreement, through a combination of two dynamics: a product offering that allows our clients to contribute to the transition; and initiatives involving our current funds to protect them from the risks of the transition, while allowing them to act on opportunities.
Creation of two new sustainable development funds
Of the year's many projects, the creation of two sustainable funds is probably the one whose positive impact will be the most tangible for our investors. The funds, launched early in 2021, are structured to link investments to the United Nations Sustainable Development Goals and will enable their unit holders to see how their assets contribute to a more prosperous and sustainable world.
Initiatives that benefit your portfolio and the planet!
FÉRIQUE Fund Management has long been active in responsible investment and has always done its utmost to take it even further. We are proud to have contributed to a number of corporate decisions by supporting shareholder proposals and by engaging in a constructive dialog with shareholders. 

Shareholder proposals

BP PLC: Commitment to publish a report that includes GHG reduction targets
Rio Tinto Ltd: Commitment to publish a report that includes GHG reduction targets

Shareholder engagement

General Electric Company: Publication of a report to monitor GHG reduction targets and achievement of carbon neutrality
CVS Health: SBTi Certification of Net-Zero Carbon Emissions target
TC Énergie: Adoption of a 2050 carbon neutrality target

Verizon: Adoption of a 2050 carbon neutrality target
These results demonstrate the positive value of collaborative engagement and the power of dialogue as a lever for progress toward more responsible practices. Ultimately, all these actions contribute to a better financial performance in the longer term and a healthy living environment for all.
To ensure we can provide you with accurate, detailed information on responsible investment and inform you effectively, all the advisors and mutual fund representatives working for FÉRIQUE Investment Services, the principal distributor of the FÉRIQUE Funds, have completed the RIA1 certification program and have obtained the Responsible Investment Specialist designation. In this complex and constantly changing world, you can count on these specialists to guide you toward choices that are in line with your values as well as your performance goals.
Responsible Investment Association of Canada