This is an essential financial planning question. Even so, this simple but vital consideration comes with secondary questions that you mush answer. When or at what age do you expect to retire? How much will your public pensions provide? Should you prioritize and RRSP or a TFSA? And, mot important, what do you want to do in retirement? What are your plans and dreams?
How much retirement income will I need?
The most important part of retirement planning is to evaluate your plans and expenses. This analysis will allow you to calculate the amount of savings needed for retirement.
Generally, two methods are used: an income-based evaluation or a detailed budget-based evaluation.
Budget-based evaluation
Drawing up a budget is definitely the better method since it takes into account all your expenses and projects. It may include the trip of a lifetime, the purchase of an RV or a cottage, major home renovations or simply the end of your mortgage payments. The closer you are to your retirement date, the more relevant and advisable this exercise is.
Income-based evaluation
iIf you don't have a specific budget, you can do an income-based evaluation. You should aim for income equivalent to 60% to 80% of your average gross annual income in the five years preceding your retirement. This approach should allow you to maintain your current standard of living.
The higher your income, the closer the replacement percentage should be to 60% owing to higher taxation of gross income. If you're more than 10 years away from retirement, this method has the advantage of simplicity. From this estimate, you can build a plan that will give you a frame of reference for the amounts you'll need in retirement.
Importance of your savings vehicles
Your savings and investments will play a key role in the development of your retirement plan. To reach the required amount, you must choose investments on the basis of your financial reality and investor profile.
Basically, you can use three types of accounts. Your savings and withdrawal strategies will be influenced by their tax advantages, among other factors. Discover the different accounts:


RRSP: Ideal way to obtain a tax deduction
TFSA: Ideal way to obtain a tax deduction
Non-registered account: Once you have maximized your RRSPs and TFSAs
Government retirement pensions
To do a proper calculation of the amount of savings needed for retirement, you'll need to take into account recurring income from the provincial and federal public pension plans that you'll be entitled to. Both plans will provide significant regular income until your death.
Régie des rentes du Québec (RRQ)
The amounts paid in retirement are determined by the contributions you make during your working life and your age at retirement. For a 65-year-old, the maximum annual payment in 2022 is $15,043.
Old Age Security (OAS)
The OAS program is universal and requires no contributions. The amount you receive is based on your years of residence in Canada. To be entitled to the full amount of $8,2261, you must reside in Canada for 40 years between the ages of 18 and 65.
Case scenario
John is a 45-year-old engineer who wants to retire at 65. How much will he need to save to reach his goal?


Age: 45
Years to retirement: 20
Annual salary: $85,000
Debts : None
Mortgage: 100% paid
RRSP/TFSA: $300,000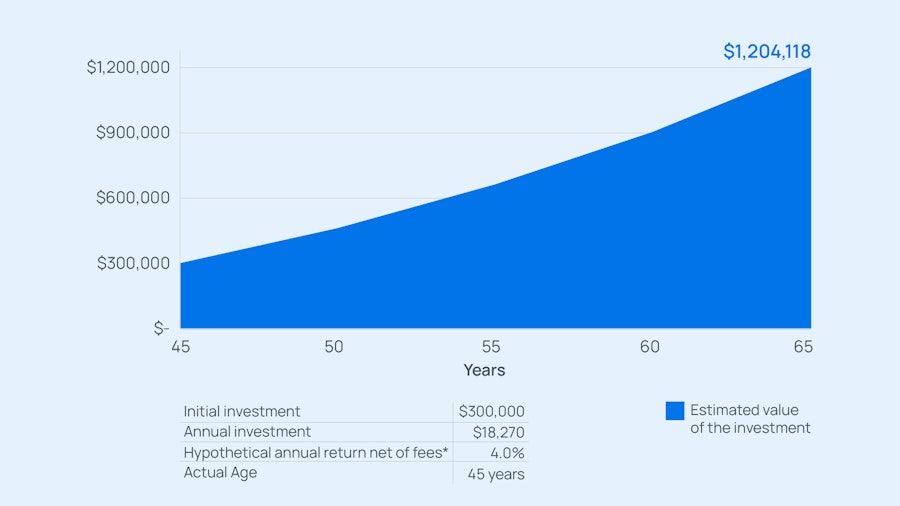 To replace 70% of his annual income, John will need $59,500 in retirement income. Considering his current salary, he will be entitled to OAS and probably the full amount of the QPP2. Thus, John will have to draw down $36,750 a year from his savings.
Assuming a 2% rate of inflation, a 30-year retirement and a 4% average annualized return on investments, he will need to save $18,270 a year to reach his goal of $1,2 million in investments to retire at age 653.
Make a plan and revisit it
As you can see, you need to consider quite a few factors when you calculate the savings required for retirement.
The key to success is to start early and to stay disciplined through the process. Your best ally is a personalized plan that takes into account your goals as well as your financial and tax situation.
Seeking guidance from an advisor is a wise way to prepare for your retirement.
Engineering professionals and their families can count on the Advisory Services team at FÉRIQUE Investment Services. The team members are just a phone call away and no appointment is needed. They'll provide objective advice and investment solutions for every stage of your life.
You can also get started by using our online tool to create your savings goal!