At FÉRIQUE Fund Management, we believe that environmental, social and governance (ESG) issues must be integrated into investment decisions due to their significant potential benefits on society and the environment.
Our commitment was first enshrined in a responsible investment policy governing the exercise of proxy voting rights. We've been pushing the envelope since then. Today, the organization's approach to responsible investment is built on three main components: exercising proxy voting rights, integrating ESG criteria to the analysis process and investment decisions, and ensuring shareholder engagement. Our goal remains the same: promoting best practices through our choices and encouraging other businesses to adopt better behaviour1.
There are several possible approaches to responsible investment, with sustainable investment being one of them. The two concepts are often confused. Let's get some insight on this topic to learn how to tell them apart.
What is sustainable development?
To understand what sustainable investment entails, we must first define the concept of sustainability, which refers to seeking to fulfill our current needs without jeopardizing the ability of future generations to meet theirs. Sustainability hinges on three pillars: the economy, the environment and society2.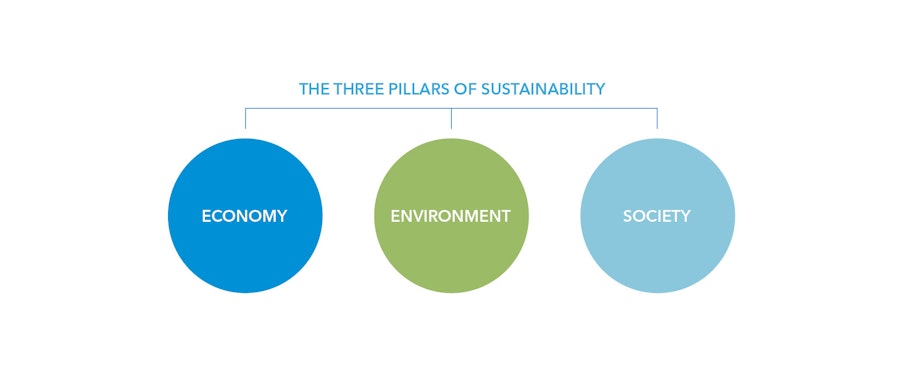 The key concept of circular economy is intrinsic to the notions of sustainability and sustainable development. This economic model offers a set of strategies and business models to optimize resource use. In Québec, it is defined as follows: "A production, exchange and consumption system that seeks to optimize resource use at every stage of a product or service lifecycle in a circular model, while reducing the environmental footprint of individuals and communities and contributing to their well-being3."
Despite some limitations, the circular economy has many positive outcomes. It enables wealth creation by giving value to materials and forces people to rethink the way they consume, among other things.
For a business to be deemed sustainable, it must take into account the long-term environmental, social and human impacts of their decisions instead of only focusing on short-term returns. Investing in these companies is the way toward sustainable investing. The chosen approach may change depending on the manager and the asset classes. For example, an equity manager may assess the sustainability of a company's corporate practices using metrics such as:
Greenhouse gas emissions minus emissions avoided
Renewable electricity produced
Water treated, conserved and supplied
Materials recycled and waste treated


The manager will be able to build a portfolio that favours companies following the best practices in each sector. A bond manager may implement a sustainable approach by being partial to issuance of Green, Social or Sustainable bonds within the portfolio.
United Nations' sustainable development goals
Also known as Global Goals, the 17 Sustainable Development Goals are a call to action to eliminate poverty, protect the planet and bring peace and prosperity to everyone, by abolishing hunger and all kinds of discrimination, among others. The goals are interlinked, meaning that actions in an area will affect the outcome in others, and any intervention must seek to balance social, economic and environmental factors4.

Investments may contribute in a tangible way to reaching these goals. Through shareholder engagement services provider Aequo, FÉRIQUE Fund Management engages in dialogues with companies in which it invests to drive them to improve their ESG practices. For example, a discussion with regard to the disclosure of employee management indicators was initiated last year with Dollarama and continued throughout 2020. This request falls within the scope of several Sustainable Development Goals, such as gender equality and the promotion of decent work for all.


United Nations' sustainable development goals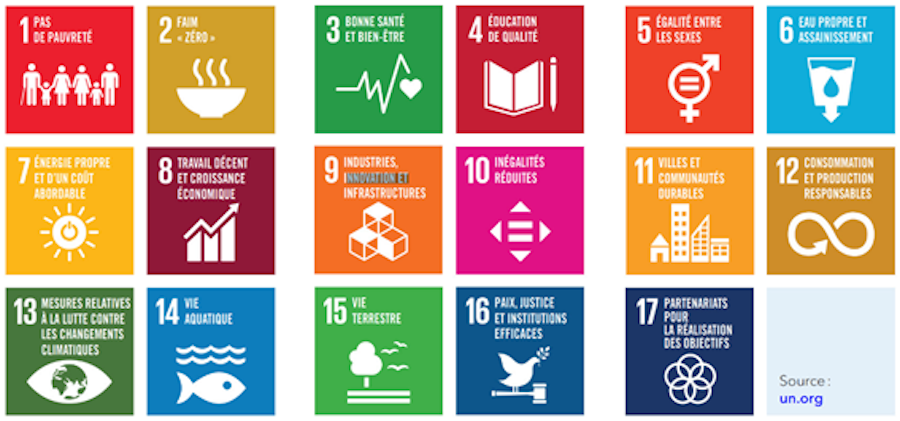 For risk reduction
With most supply chains vulnerable to natural disasters, pandemics and civil wars, and climate change, clean water shortages and poor work conditions increasing these risks, sustainable development and investment bring about many concrete opportunities.
For example, in a recent dialogue with Enbridge conducted through Aequo, we have learned that, in spite of their relatively modest size (5%), their renewable energy operations remain a key sector for the company due to their growth potential and strategic importance. The business unit suffered virtually no impact from the COVID-19 pandemic, since it focuses its operations in wind and solar energy and contracts with European government authorities that are less likely to experience a drop in demand.
Racism and its effects represent another tangible risk for companies. It should be remembered that in 2018, Starbucks decided to close 8,000 of its stores for four hours in the United States to provide anti-bias training to its staff in response to the backlash caused by the racist behaviour of one of its employees. The company lost an estimated 17 million dollars in sales. This example illustrates how costly this issue can become. Conversely, initiatives promoting inclusiveness have shown to be effective. On this side of the border, a report from the Centre for International Governance Innovation based on an analysis of 7,900 Canadian companies revealed that a 1% increase in ethnocultural diversity correlates to an average 2.4% revenue increase and 0.5% workplace productivity gain5.
The impact of climate change on agriculture is tremendous, as it has the potential to shift seasons, affect the occurrence of diseases and, as a result, alter growing conditions. Disruptions to the supply chain may have repercussions on production processes that rely on natural assets such as biodiversity, groundwater, clean air and climate. To help farmers address these threats, which include climate volatility, soil degradation, droughts, humidity, and ensure long-term supply of their agricultural products, companies such as Unilever and Nespresso are investing in the Rainforest Alliance certification6.
Companies are also exposed to risk in the manufacturing process due to the depletion of resources—water in particular—, which could generate billion dollar losses for mining, oil and gas companies. For example, in 2004, Coca-Cola suffered a water shortage in India that forced the company to close one of its factories and invest billions of dollars to reduce water consumption and improve water quality in the communities where it does business6.
Issues that closely relate to investors' well-being
It goes without saying that retirement is best enjoyed on a healthy Earth. We must therefore use resources wisely to protect the planet and fight against its many scourges. Regardless of the approach chosen, responsible investment is seen as a way to promote sustainable development.
FÉRIQUE Fund unitholders can reconcile their wish to have a positive impact on society and achieve their portfolio returns objectives without relying on exclusion, but rather by adopting an approach that fosters transition. For example, all FÉRIQUE Fund managers are PRI signatories and thus commit to integrate ESG criteria to their investment decisions and approach.
To maximize your chances and better understand responsible investment, it is important to seek advice from a professional. The advisors and mutual fund representatives of FÉRIQUE Investment Services, the principal distributor of FÉRIQUE Funds and Portfolios received the Responsible Investment Advisor Certification from the Responsible Investment Association and could provide adequate guidance.